We tell our clients to give their SEO plan at least 3 months before expecting to see good results, but we'd like to show you the great results we have actually gotten for two sites we've recently ranked. Your results will vary based on the keywords and the competition, but we will get results. The first site is less than two months old and the second is less than one month old.
On the first site we did the full web site development. We built it with WordPress and customized a theme to match the logo and feel. Building the site from the beginning let us fully optimize the site for search engines. Next we create two-tiered backlinks. We have a systematic proprietary system for backlinking so that we can help a site to rank quickly.
The result? New first page rankings as well as many top 1-3 rankings for the chosen keywords. The keywords below show the current rankings as of today.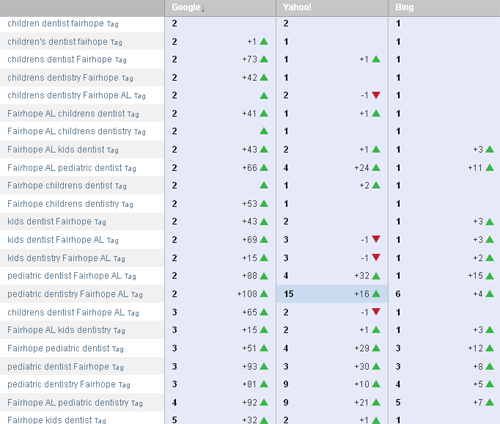 ---
What about traffic?
Now rankings are impressive, but can you increase traffic to your site with just SEO? We could show you an 8 year old site that gets 1000's of visitors a day, but instead lets look at an ecommerce site we built that launched at the beginning of this month. This site has gone from 0 to 80+ visitors a day with just organic search visitors. What brought all these new visitors? Proper site development and what we include in our SEO packages – on site optimization and off page link building.
---
If you need SEO for your web site contact us today or visit our SEO page for more information.