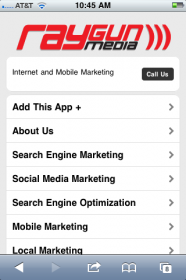 You have a website so your potential customers can find you from their home or office computer, but how can you reach them wherever they are? More and more people are using mobile phones to browse the internet on the go.
This is why it is becoming critical that you have a mobile website. If someone looks at your website on their mobile phone, how does it look? Is it easy to navigate or even to read? It is frustrating to try to use a site that isn't mobile optimized – the print is tiny and difficult to read, and you must zoom in and out to find what you need. I have often given up trying to use a site like I just described because it doesn't seem worth the trouble.
What is the solution then? You need a mobile optimized website. It should be simple, intuitive to navigate, easy to find information or fill out forms, have click to call buttons, link to your full site, have a map to your business, auto redirect if it is a mobile device, and ability to add as an app to the phone. Ultimately it's all about being accessible to your potential customers when they need you. They will appreciate the convenience and usability, and it will grow your business!